Charbonnel Printmaking Materials
Since 1862, Charbonnel has been manufacturing inks and grounds for intaglio and lithography. Charbonnel has been the choice for the most renowned artists of our time: from Renoir, Degas, Lautrec and Picasso to present day masters such as Rauschenberg, Hockney, Diebenkorn and Thiebaud. The pigments are chosen for their excellent light fastness and low acidity. They are then blended with top-quality oils and finely milled to ensure trouble-free printing and a lasting work of art.

Capture details and textural subtleties.
Available in 60 ml tubes and 200 ml cans.
Highest pigment load and vibrancy.
Lightfast colors.
Wide range of blacks for various techniques.
Excellent for all forms of intaglio, lithography and monotype.
Charbonnel inks are the choice of artists and print shops around the world.
Inks are specially-designed for intaglio techniques.
Rigorous quality control ensures the consistency of the colors, paste and viscosity.
Etching Inks
Ink Modifiers
Characteristics
Water-washable oil-based emulsion (contains no water)
Hands and materials can be washed with soap and water.
High pigment concentration (comparable with standard inks)
Extremely lightfast.
All the colors can be intermixed
Viscous and easy to wipe.
Can be used with paper that is less damp than required for standard etching ink.
Same drying times as standard inks
Will not soften when dry.
AP seal.
Colors
Litho Ink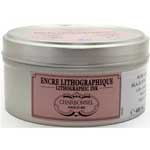 Roll up Black Litho Ink
Noir A Monter
Available in either 200 or 800 ml Containers
Litho Tusche