Hanco Litho Ink
Hanco Litho Ink Formerly Handschy Ink
All inks without drier. Sold in 1 lb cans unless noted.
Master Palette
High strength full bodied ink made of finely ground specialty pigments. Provides superior permanence master printers require for lasting impressions.
Ink Colors
5031291 Yellow Shade Magenta R-2816
5031301 Orange Red R-6705
5031331 Flag Red R-6710
5031351 Geranium Red R-6714
5031381 Burgundy Red R-6717
5031411 Reddish Purple P-686
5031431 Bluish Purple P-688
5031471 Milori Blue B-7498
5031491 Blue Green G-1966
5031531 Shamrock Green G-4999
5031551 Green Toner G-8720
5031611 Tan T-3021
5031621 Artistic Gray T-3022
5031671 S.M.A. Black BK-1018
5031681 Rubbing Up Proofing Black BK-1021
CS Palette
The time tested B15 palette, provides high strength, full body and high tack. Excellent value for educators institutions and budget conscious printmakers.
5031191 Tint Black CS-750 BK-1056
Modifiers
Setswell MS-1025
is an ink modifier that keeps printed ink layers receptive to additional ink layers.
Litho Varnish
is used as an ink modifier.
Body Gum MS-1023
is thicker than the thickest litho varnish.
Magnesium Carbonate PM-104
is used to stiffen ink.
Clearset Compound MS-1008
is a tack reducer used to soften etching inks. Note: compare to miracle gel reducer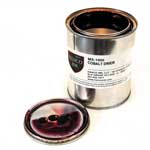 Cobalt Drier MS-1000
is used to speed the drying time of inks.
Tu Way Drier MS-1014
is used to speed the drying time of ink.
Flash Oil MS-1022
is a tack reducer with high wetting properties.