Print Drying Racks
A complete line of industrial quality print drying racks.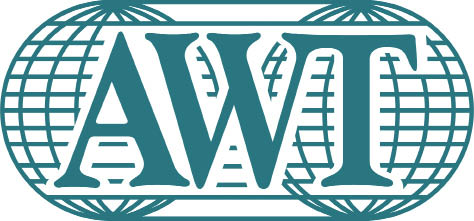 These sturdy AWT racks are ideal for drying prints, paintings, or other flat substrates. Powder coated shelf finish. Heavy duty casters. Made in USA
---
Mid Range Drying Racks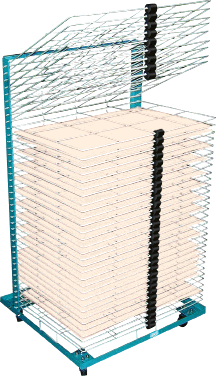 Perfect for commercial shops, educational and institutional use, these models combine both economy and mobility. Featuring a new frame design for faster assembly, lightweight shelves snap into place quickly and easily. Rubber bumpers maintain the proper shelf spacing while all steel-construction provides a super sturdy frame. A true mid-range marvel offering many of the same features found on our larger racks!
STANDARD FEATURES:
• Sturdy, all-steel welded frame construction
• Rust-resistant, powder-coated shelf finish
• Casters for easy mobility
• Shelves snap easily into frame
• Rubber bumpers ensure proper shelf spacing for effective drying
• Powder-coated shelf finish resists rust and solvents
• Ships via ground parcel service
Item #200201
40 Shelves 18" x 24"
Buy Online
Item #200202
40 Shelves 20" x 26"
Buy Online
Racks above Ship UPS ground
50% deposit required on PO Purchases
Credit card orders will be charged at the time the order is placed
---
Heavy Duty Drying Racks
These AWT drying racks are the perfect choice for industrial drying applications. Built on a welded steel frame, these racks provide a safe and sturdy resting place for your substrates as they dry. Longer lasting than rubber, steel bumpers come standard on all of our heavy-duty racks and are welded to the outside of the shelf for maximum drying room. For smooth up/down operation, the individually adjustable shelf springs give you tension control over each shelf, and all shelves feature a rust- and solvent-resistant, powder-coated finish to extend the life of your rack. To promote quick evaporation, racks come with non-warping shelves spaced at 1" or 2" intervals. Available in heat-resistant models for baking applications, these heavy-duty racks stand ready to fulfill all your industrial drying needs.
STANDARD FEATURES: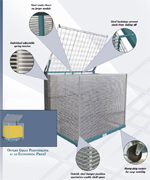 • Welded steel frame construction
• Individual adjustment of spring tension
• Permanent steel spacers
• Rust/solvent resistant powder-coated shelf finish
• Heavy-duty casters
• Optimum shelf spacing for solvent evaporation
• Back stops prevent stock slide
Item #200204
40 Shelves 26" x 36"
Buy Online
Item #200205
50 Shelves 26" x 36"
Buy Online
Item #200206
40 Shelves 31" x 48" $4,284
Item #200207
50 Shelves 31" x 48"
Buy Online
Item #200208
50 Shelves 37" x 50"
Buy Online
Item #200209
50 Shelves 42" x 55"
Buy Online
Item #200210
50 Shelves 45" x 68" $8,970
Item #200211
50 Shelves 52" x 80" $9,304
Racks Above Ship Motor Freight, Prices quoted F.O.B. Manufacturers Factory. Please
contact Takach Press
for shipping costs.
50% deposit is required to place order via PO
Credit card orders will be charged at the time the order is placed
Typical lead times on this product range 10 - 14 weeks after receipt of order. If an exact timeline is required please
Contact Us