Floor Model Lithography Printing Press
"Needless to say, I am a firm believer and advocate of your products. We ordered our first litho press from Takach Press Corporation in 1976. That press is still in excellent and trouble-free condition after almost 22 years of heavy student use and abuse."
-Ken Hale,
Professor of Art,
University of Texas, Austin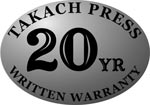 20 Year Litho Press Warranty
TAKACH PRESS STANDS BEHIND THIS WARRANTY 100%.
Litho Press Information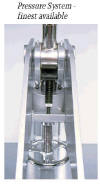 Pressure System:
Our pressure system utilizes the finest quality hand machined parts, guaranteeing the printer the best mechanical advantage, ease of operation, and trouble free use. Features include 1" diameter hardened steel pins, custom machined connecting rods, piston and pressure cylinder, and permanently lubricated fiberglide bearings. The system will accommodate stones and plate backers ranging in thickness from .25" to 4.125".

Press Bed:
Three inch thick, staggered grain, hard rock maple wood is the core of our press bed. All wood sections are relief cut according to manufacturer's specifications to eliminate bed warp. Steel pins, 3/4" inch in diameter, connect bed sections. The top of the bed is covered with a neoprene rubber stone cushion. A galvanized steel cover is installed over the cushion which resists the chemicals used in the printing process and provides a durable working surface. Bed stops secure the moving press bed to the press frame. This feature is a must in today's safety conscious work environment. To eliminate uneven printing pressure and stone breakage, the bed is supported by independently adjustable precision ball bearings. This results in absolute parallelism between the bed and drive drum.
Frame Unit:
.188" wall steel tubing is bolted and welded for maximum strength. Metal Inert Gas (MIG) weld method is used. This provides the strongest and cleanest weld available. The lower frame unit may be fully disassembled if necessary.
Drive Drum:
Welded drum shaft, support baffles, and heavy wall drum stock are machined to precise specifications as a concentric unit. Maximum drum shaft support is achieved by two self-aligning ball bearing support units. All drums are nickel plated.
Bed Drive System:
Effortless hand cranking is made possible by our double reduction chain and sprocket drive system. Motorized drive systems are also available.

Locking Press Bed:
Our Bed Latch System locks the press bed into the inking position. Leaning against or bumping the lock bar while inking will not cause the lock system to release. Hand operated models only.

Bed Stops:
Secures the moving press bed to the press frame and allows full bed printability.



Crank Handle System:
A spring loaded clutch, mounted in the crank, allows the printer to disengage the clutch while the press bed is manually moved into or out of the inking position. This eliminates injury by a spinning crank handle. Hand operated models only.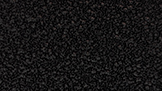 Finish:
All press parts are protected by nickel plating, anodizing or high high durability powder coating. The powder coating is a custom metallic silver-vain. However, other colors are available for an additional charge.
Custom Color Presses are available for an additional charge.

SIZE SPECIFICATIONS FOR
HAND OPERATED LITHOGRAPHY PRESSES

Model/Bed Size
Size Specifications
2648
3460
4072
4484
4896
Overall Length
(total operation space)
98"
122"
146"
170"
194"
Overall Width
46"
54"
60"
64"
68"
Overall Height
(top of yoke)
57"
57"
57"
57"
57"
Frame Length
81.5"
97.5"
121.5"
133.5"
157.5"
Frame Width
30"
38"
44"
48"
52"
Frame Height
30.5"
30.5"
30.5"
30.5"
30.5"
Bed Length
48"
60"
72"
84"
96"
Bed Width
25.5"
33.5"
39.5"
43.5"
47.5"
Bed Height
32"
32"
32"
32"
32"
Drum Length
25.5"
33.5"
39.5"
43.5"
47.5"
Drum Diameter
10.75"
10.75"
10.75"
10.75"
10.75"
Drum Shaft Diameter
2"
2"
2.25"
2.25"
2.5"
Drum Support Bearing Diameter
1.75"
1.75"
2.187"
2.187"
2.437"
PRICING FOR FLOOR MODEL HAND OPERATED
LITHOGRAPHY PRESSES

Press Model
(Bed Size)
Hand Operated Litho Press
2648
(25 1/2" x 48")

Item # 0602648


3460
(33 1/2" x 60")

Item # 0603460


4072
(39 1/2" x 72")

Item # 0604072


4484
(43 1/2" x 84")

Item # 0604484


4896
(47 1/2" x 96")

Item # 0604896