Printmaking Reference Material
Tamarind Techniques for Fine Art Lithography
A must-have for every lithographer, workshop, library and classroom. This full-color technical manual contains step-by-step directions for all processes used at Tamarind.
Signed Copy
Aluminum Plate Lithography Manual
Published by Tamarind Institute in 1999.
This 45 page spiral bound manual is full of the most current techniques on aluminum plate processing, acid tint, acrylic medium reversal, Xerox transfer method and a trouble shooting guide.
Ample photos throughout.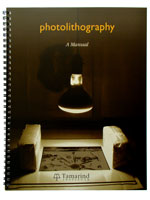 Photolithography - A Manual
Published by Tamarind Institute in 2003.
This 30-page manual covers positive plate, negative plate, films, registration, stone matrix, exposure methods and more.
Many photos and charts.
Revised Lithography Lab Manual
By Lise Drost. 187-page book
Approximately 100 pictures and diagrams. Four removable pages of color plates. This manual covers both basic and advanced litho processes from stones, hand drawn aluminum plates, and positive working photo plates.
The Art of Lithography Working on Stone
Artist George McNeil draws, paints and scratches on a litho stone in "Working on Stone".
This 26 minute short course video from Tamarind Institute offers detailed instructions on stone lithography.
DVD or VHS
The Art of Lithography Working on Plate
"In Working on Aluminum Plate", artist Jaune Quick-to-See Smith creates a four color litho from aluminum plates.
This 24 minute short course video from Tamarind Institute offers detailed instructions on aluminum plate lithography.
DVD or VHS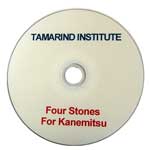 Four Stones for Kanemitsu
Tamarind Institute's award winning video records the making of a color litho by the noted artist, Matsumi Kanemitsu, beginning with the graining of the stones. Fully revealed are the esthetic and subjective problems faced by Kanemitsu, as are the technical challenges met by the Master Printer and his assistant.
28 minute color DVD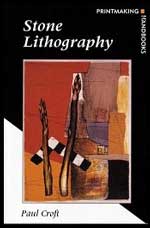 Stone Lithography
By Paul Croft 160 pages.
A practical handbook that offers a comprehensive approach to the many aspects of lithography. Information is presented through simplified steps in a logical and meaningful manner.
Lavishly illustrated and teeming with examples of prints from an international group of artists.
The Art Of Printing From A Xerox Copy With Lisa Mackie
This interactive book-style DVD will demonstrate the xerox copy lithography technique which directly relates to polyester litho plates such as the
smart plate
product in our catalog.
120 minutes
Intaglio
Magical Secrets about Thinking Creatively:
The Art of Etching and the Truth of Life
By Kathan Brown: color illustrations, hard back.
120 Pages
Includes DVD
Magical Secrets about Chine Colle:
Pasting, Printing, Mounting and Leafing Step-by-Step
This book is an expanded revision of the popular Chine Collé: A Printer´s Handbook by Brian Shure.
197 Pages
Includes DVD
Magical Secrets About Line Etching & Engravings:
The Step-by-Step Art of Incised Lines
Step-by-step demonstrations of the techniques. Color, hard back.
207 Pages
Includes DVD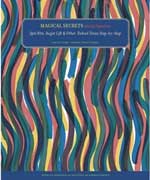 Magical Secrets about Aquatint:
Spit Bite, Sugar Lift and Other Etched Tones Step-by-Step
Spit Bite, Sugar Lift and Other Etched Tones Step-by-Step: By: Emily York
360 Pages
Includes DVD
Monotype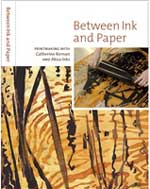 Between Ink and Paper DVD
On a quest for a less toxic studio, printmaker Catherine Kernan explores the limits of Akua Kolor and Akua Intaglio water-based inks on large-scale woodblocks, and they revolutionize her working process. In eighty-five minutes of concise and beautifully filmed demonstrations, Between Ink and Paper reveals the synergy between inks, blocks, and color in Catherine Kernan´s print process. In an ever-inventive woodcut monoprint process, Kernan exploits unorthodox techniques that are sure to stimulate printmakers from beginner to expert. These include offsets to plastic, viscosity rolls, sandwiching giant plywood blocks together and pulling ink from one block to another. Kernan immerses us in the brilliance and transparency of Rostow & Jung´s Akua waterbasedinks, their rich and subtle color, their modifiers and versatility, their easy clean-up with soap and water, and their long working time.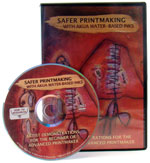 Safer Printmaking With Akua Water-Based Inks
Demonstrations for the beginner or advanced printmaker.
Steps for creating monotypes and monoprints with both Akua Kolor and Akua Intaglio while printing with a press and by hand.
50-minute video by Susan Rostow.
DVD
Painterly Printmaking with Monotype
An expansion of the book "Monotype Mediums & Methods for Painterly Printmaking." This DVD focuses on Akua-Kolor water based inks, tools, & pin press. Julia & Gail Ayres
DVD
Monotype - Mediums and Methods for Painterly Printmaking
An 8 1/4" x 11" soft cover book by Julia Ayres with 144 pages of step-by-step instructions and 250 color illustrations on the popular medium of Monotype using oil based inks, as well as a brief history and comprehensive information on materials.
Intaglio-Type
The Contemporary Printmaker Intaglio-type & Acrylic Resist Etching
243-page book
By Keith Howard.
Most up to date info on Image On techniques.
Color photos.
Item # 53008
Using ImagOnTM Ultra Polymer Film
Video and manual:
80-minute video
By Keith Howard.
Come's with 24-page companion manual.
DVD and VHS
Photo Polymer
Printmaking With Photopolymer Plates
By: Dianne Longley
A New, Safe, Versatile Printmaking Technique For Artists And Students. A complete guide to the uses of
photopolymer plates
with step by step instructions. The book includes an overview of various print media, a history of photopolymer plates and a schematic for building an exposure unit.
Paperback 112 pages.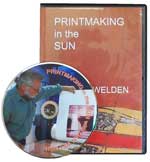 Printmaking in the Sun DVD
By: Dan Weldon
DVD shows every step of making relief and intaglio prints using solarplate. Dan shows how to create an image on Mylar using various mark-making techniques. The solarplate are then developed and printed. Tips and advice on exposure times, washing out, registration, inking, preparing paper, and the amount of pressure needed from the press ensure that your printmaking experience is easy and successful. The DVD includes a gallery of solarplate prints with explanations of the techniques used to create them. Professionally made, thorough and complete, this DVD is a valuable learning tool for anyone interested in using solarplates.
Printmaking in the Sun
A soft cover 144-page book with color photos that is an artist's guide to making professional prints using solarplate.
Written by Dan Weldon and Pauline Muir.
Print Catalog
Item # 53031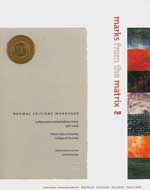 Marks From The Matrix
Normal Editions Workshop Collaborative Limited Edition Prints 1976 - 2006 Edited By Richard D. Finch and Veda M. Rives Additional Contributions By Mark Pascale, David Keister, Buzz Spector, Jamed D. Buttler 196 pages feature 491 illustrations 110 full page color plates documenting NEW print publications 381 color or black & white images of artwork and workshop activities.