Flammable Liquid Handling
Portable storage containers for dispensing flammable liquids. Storage of flammable waste requires proper containers.
Portable storage containers
Portable containers for the use and storage of flammable liquids when transferred from their original containers.
Item #
206020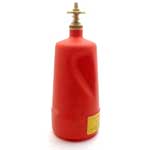 Dispensing Bottle 1 Quart
Rugged polyethylene body. Leak-proof and self-closing brass dispenser valves to minimize spills and control excess. Brass valves are FM-approved and recommended for flammables only.
Solid waste containers
Waste containers for materials soaked in flammable liquids like rags or paper.
Item #
206030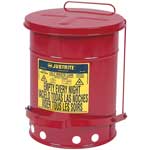 Flammable Terne Plate Waste Can (6 Gallon)
Round construction and elevated bottom encourage circulation of air around can to disperse heat and prevent spontaneous combustion. One-piece, foot operated cover.
Related Products