Large Floor Model Motor Driven Etching Printing Press



Takach Floor Model Motor Driven Etching Press

"As a teacher and artist who has used Takach equipment for the past 16 years, I can say without reservation that your machines, equipment and service are exemplary. Phone calls are always met with courteous responses, intelligent suggestions and quick turn around."

-Jack Damer,
Professor of Art,
University of Wisconsin, Madison

20 Year Press Warranty

TAKACH PRESS STANDS BEHIND THIS WARRANTY 100%.

Motor Driven Variable Speed Etching Printing Press
Press Bed Drive System

Motor:

DC Permanent magnet motor provides maximum performance.


International Requirements:

Motorized Drive Systems may be wired to meet international requirements.

Safety Guard System:
Pinch point safety guards are mounted on each side of the pressure drum and attached directly to the bearing support units. They move up and down with the pressure drum remaining a constant distance above the work placed on the press bed. If necessary, the guard will automatically shut down the motor drive, preventing injury. The drive system may be reactivated by simply pressing the restart button.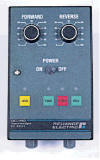 Controller:

Infinite bed speed control with constant torque from 0" to 4.25" per second.
High speed return switch returns the bed to the inking position at maximum speed.
All control switches are mounted conveniently on the operator's side of the press.
Dynamic braking increases braking performance.
Soft start acceleration control.
Limit Switch:
An adjustable bed position limit switch allows the operator complete control of the bed travel length.
Power Required (Most Models):
115 volts at 15 amps.
No costly rewiring is needed.
Common household current powers this system.
Other Features:

The DC system is 50% quieter than conventional AC drive systems.
The press bed may be operated at high speed in either direction.
Press bed speed may be varied at any point during the printing cycle to maximize performance.
Less Press Operator Fatigue:
Net result is increased production of prints.
Pneumatically Operated Etching Presses
For information on our Pneumatically Operated Etching Presses, please
Contact Takach Press
.
Standard Etching Press Features Included on Motorized Presses
Pressure Systems:
Printing pressure is applied by lowering the upper pressure drum onto the press bed using the pressure adjusting screws. Micrometer pressure dials are supplied with each press to allow consistent pressure application and repeatability. The upper pressure drum may be raised 1.25" above the bed for relief printing.
Press Bed:
Three inch thick, staggered grain, hard rock maple wood is the core of our press bed. All wood sections are relief cut according to manufacturer's specifications to eliminate bed warp. Steel pins, 3/4" inch in diameter, connect bed sections. A .25" plate which has a phenolic-resin sheet bonded to the top surface, provides the working surface of the bed. The working surface will withstand all chemicals used in the printing process and will withstand very high pressures without embossment problems or loss of printing pressure. The underside of the bed is also covered with phenolic-resin to protect from moisture. Uneven printing pressure is eliminated by independently adjustable precision ball bearings supporting the bed. Bed stops secure the moving press bed to the press frame. This feature is a must in today's safety conscious work environment.
Frame Unit:
.188" wall steel tubing is bolted and welded for maximum strength. Metal Inert Gas (MIG) weld method is used. This provides the strongest and cleanest weld available. The lower frame unit may be fully disassembled if necessary.
Pressure and Drive Drums:
Welded drum shaft, support baffles, and heavy wall 10.75" diameter drum stock are machined to precise specifications as a concentric unit. Maximum drum shaft support is achieved by two self aligning ball bearing support units. These very large diameter drums aid the printmaker tremendously when heavy pressure is being used during the printing process. All drums are nickel plated to eliminate rusting.
Bed Drive System:
Nylatron wear strips attached to each side frame assure minimal bed friction. Powder coated chain guard protects operator from moving parts of drive system.
Finish:
All press parts are protected by nickel plating, anodizing or high durability powder coating. The powder coating is a custom metallic silver-vain.
Custom color presse
s are available for an additional charge.
Size Specifications For
Floor Model Motor Driven Etching Presses Only

Press Model
2648
3460
4072
4484
4896
Overall Length
(total operation space)
96"
120"
144"
168"
192"
Overall Width
46.5"
54.5"
60.5"
64.5"
68.5"
Overall Height
50.5"
50.5"
50.5"
50.5"
50.5"
Frame Length
76"
76"
96"
96"
120"
Frame Width
30"
38"
44"
48"
52"
Frame Height
30.5"
30.5"
30.5"
30.5"
30.5"
Bed Length
48"
60"
72"
84"
96"
Bed Width
25.5"
33.5"
39.5"
43.5"
47.5"
Bed Height
32"
32"
32"
32"
32"
Drum Length
25.5"
33.5"
39.5"
43.5"
47.5"
Drum Shaft Diameter
2"
2"
2.25"
2.25"
2.5"
Drum Support Bearing Diameter
1.75"
1.75"
2.187"
2.187"
2.437"
Pricing For
Floor Model Motor Driven Etching Presses

Press Model
(Bed Size)
Vari-Speed Motorized Etching Press
2648
(25 1/2" x 48")
Item # 0512648

3460
(33 1/2" x 60")
Item # 0513460

4072
(39 1/2" x 72")
Item # 0514072

4484
(43 1/2" x 84")
Item # 0514484

4896
(47 1/2" x 96")

Item # 0514896